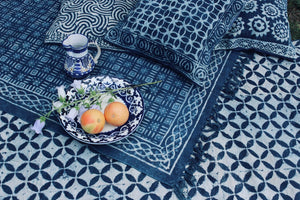 Do you like BLUE?
Yes? Then read this blog. 
Color is emotion.


We call blue a cold color. It is a color of ratio and intelligence. We associate blue with peace and tranquility. We see blue as a color of trust and clear communication.
Blue in textiles is often used in uniforms because it gives the appearance of stability, balance and efficiency. The association with power and status makes it so that a lot of businessmen, and women, are wearing blue. Combinations of blue and green in interiors show sympathy and kindness. It's also said that interiors that incorporate blue tones make you more productive.
For the natural dyeing of textiles in blue, we used to use plants like the European wede and the indigo plant from the East. 
Indigo is same blue dye we all know from our jeans and other denim fabrics. It is even more popular nowadays than ever before. Most textile museum will have had their own indigo exhibition in the past or have one on their to-do list. 
Indigo is surrounded with mystification. First of all because it's blue. Blue is the color of the night.


The dye has also a mystical appearance. Who would be able to guess that in the green leaves of the indigo plant such a powerful tone of blue is hidden? And who was able to release this pigment and let it adhere in the fibres of textiles?The recipes of freeing the blue color from the indigo are a well kept secret. Most of them are not even written down.
Once I heard a spy stories about the Japanese, visiting the Miao tribes in China to steal the secrets.
For centuries the indigo color blue inspired artisans from all over the world to make the most inventive and artistic designs in their fabrics, ikat, shibori, tie and dye, batik. You name it: in indigo blue, it looks magical!
We at Shirdak have a beautiful line with indigo dyed products like our cushions and rugs from India that you can find

here

. And we have the original indigo cloth from Mali Africa.
My advice; Play with blue, you can never make a mistake.
---